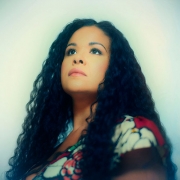 Blues and soul become inextricably entwined in award-winning singer-songwriter, Kyla Brox, whose raw talent has seen her described as "the finest female blues singer of her generation". Winner of the UK Blues Challenge 2018 and the European Blues Challenge 2019, voted Best Female Vocalist in the 2019 European Blues Awards and semi-finalist in the International Blues Challenge 2019 and 2020, Kyla Brox is at the very top of the UK Blues scene.
Daughter of cult blues figure, Victor Brox, the Mancunian vocalist began her career as a teenager in her father's band and has now honed her own sophisticated sound, as heard on her last two critically acclaimed and award-nominated albums, Throw Away Your Blues and Pain & Glory, which reached No.1 in the IBBA Charts for 2019 and was nominated Best Album in both the European and UKBlues Awards.
Her voice; tender, urgent, gritty, blurring the distinction between pleasure and pain, mixed with the enchantingly fluent guitar work of Paul Farr, inspired bass playing of Danny Blomeley and in-the-pocket drumming of Mark Warburton, combine to make a unique and powerful, often joyous, always emotional experience.
Kyla also plays in duo form with her husband, virtuoso acoustic guitarist, Danny Blomeley, whose playing, by turns delicate and unrestrained, has earned him a following in his own right.
A completely independent artist, Kyla has built her career year on year; starting out at grassroots with local pub gigs and growing to headlining concerts all over the globe, including some of the most prestigious Blues festivals in the world.
With thousands of albums sold and a constantly growing fanbase, Kyla Brox is widely regarded as one of the very best soul-blues singers the British Isles has ever produced.
"The finest female blues singer of her generation"
"Manchester's answer to Aretha Franklin."
"Surely one of the finest voices Britain has ever had"
"Kyla Brox knows how to handle the gears… the Mancunian vocalist lets songs percolate, raising the temperature by degrees, then giving it both barrels in the final stretch. It's a thrilling tactic."
"An authentic soul diva… sensitive, sexy, and with infinite reserves of sassiness"
When Danny Blomeley was very young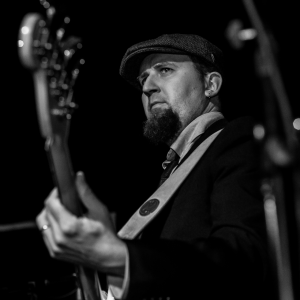 he heard BB King on cassette and immediately fell in love with the Blues. Shortly afterwards, at the age of 12, Danny found himself wielding a bass guitar (the first few frets of which he couldn't reach) on stage with legendary Bluesman Victor Brox. This is where he met Victor's daughter, Kyla, and together they spent the next 9 years honing their craft in the Victor Brox Blues Train until The Kyla Brox Band was formed. 25 years after the spell was cast, whether on bass or acoustic guitar, Dan is still happily making magical music with Kyla.
Mark has played drums for most of his life and for the last 18 years has worked extensively as a professional musician. He has toured all over the world as a session drummer performing throughout Europe.

His professional achievements to date include performing and recording with the likes of Gloria Gaynor, Curtis Harding, Glen Nicholls, The Osmonds, the Swing Commanders, The Jive Aces, Lucien Barbarin and the Future Funk Squad.

When not on the road, Mark records drums at his private studio in Lancashire, performing on records signed to major Nashville publishers, recording drum sample packs and playing on film soundtracks.

Marks first performance with the band was a last minute gig at Matt 'n' Phred's jazz club in Manchester. He met Kyla, shook her hand and said hello, then it was time to get on stage! Having survived the baptism of fire, he is now Kyla's go to drummer.
Based in Manchester, Paul Farr has worked as a professional guitarist for over twenty years playing with artists such as Tom Jones, Errol Brown, Lily Allen, Corinne Bailey-Rae and Joss Stone amongst others.
He writes and  performs his own music with 'The Paul Farr Band' and is proud to have been Kyla Brox's guitarist for the last ten years, fulfilling his life long love of the blues.