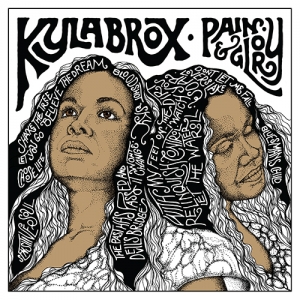 Kyla Brox
Pain & Glory
Winner of the European Blues Challenge 2019 & the UK Blues Challenge 2018 and daughter of cult blues figure, Victor Brox, releases her ninth album, Pain & Glory, (29th March 2019). Also available as a high quality, double, gatefold-sleeved LP. She will represent Britain at the International Blues Challenge in Memphis, January 2019.
"Manchester's answer to Aretha Franklin." Tony Wilson, Factory Records
"Kyla Brox knows how to handle the gears… the Mancunian vocalist lets songs percolate, raising the temperature by degrees, then giving it both barrels in the final stretch. It's a thrilling tactic." Henry Yates, The Blues Magazine
"An authentic soul diva… sensitive, sexy, and with infinite reserves of sassiness" City Life
————————–
Kyla Brox's scintillating, multi-faceted new album, Pain & Glory marks her ascendancy to the very first rank of British singers.
Kyla has been a professional musician since the age of twelve – first in her father, Victor Brox's band, then striking out on her own – and Pain & Glory represents the culmination of a quarter of a century's experience on the road and in the studio. The variety and depth of her vocal performances have grown year on year and are given a superb setting in this album's sweeping landscape of soul, blues, urban R&B, blues-rock, and singer-songwriter pop of the highest class.
The collection opens with the joyous 'For The Many', replete with Stevie Wonder-style clavinet sounds from keyboardist John Ellis, and a politically progressive lyrical sentiment which is emblematic of Kyla's generosity, humanity and proud optimism throughout this collection.
Highlights abound: the retro-soul, slow-burn balladry and melodic momentum of the title track; the jubilant R&B of 'Choose Life'; 'In The Morning' is a swaggering, sensual blues shuffle; 'Manchester Milan', unfurls as a wistful, sophisticated meditation on a cosmopolitan affaire d'amour; Lover's Lake has the gentle, inviting pulse of a Fleetwood Mac b-side; while the hot funk of 'Let You Go' flames with righteous Girl Power brio.
Two tracks perhaps deserve extra-special mention. Firstly, the swingin', jivin', 'Bluesman's Child' which documents Kyla's teenage years of singing with her father's band. A bit of background: in the early '60s her dad, Victor Brox formed the Victor Brox Blues Train with singer Annette Reis, who would become Kyla's mother. They were, perhaps, the first interracial band on the scene, Annette having been born in Stockport of African-Canadian, English and Nigerian heritage. Victor went on to the influential Aynsley Dunbar Retaliation drawing the admiration of Jimi Hendrix, who dubbed Victor his "favourite white voice". Robert Plant was also a teenage fan. Kyla sometimes performs with Victor and Annette to this day.
Secondly, classic-in-waiting, 'Don't Let Me Fall' wields seriously radio-friendly soul-pop heft, as Kyla builds from a crooning start to an astonishing crescendo where she sings without the brakes on. It is a truly thrilling aural experience.
Such a treasure shines all the brighter in being supported by a superb team – Kyla's brother, Sam Brox of Dust Junkys fame produces empathetically with help from Kyla herself and her husband, co-writer and bassist Danny Blomeley – it is indeed, a family affair. John Ellis (Honeyfeet, The Cinematic Orchestra, Lily Allen etc), plays keys with alchemical excellence; in-the-pocket drummer Mark Warburton is a master of economy; Paul Farr (Corinne Bailey Rae, Joss Stone, Tom Jones) is an enchantingly fluent guitarist; while the renowned Haggis Horns – proclaimed "the best horn section in the world" by Mark Ronson – create a further dimension to these already finely crafted, appealing songs with their mellifluous and punchy arrangements.
In September 2018 Kyla won the UK Blues Challenge with a breathtakingly charismatic set at Worthing Pier's Southern Pavilion. She will represent Britain at the International Blues Challenge in Memphis, January 2019 and at the European event in The Azores, April.
Kyla Brox is one of the very best soul-blues singers the British Isles has ever produced, and with the arrival of this beautifully composed cornucopia of an album, her time has come.
Pigskin Records via Cadiz Distribution
For more info, interviews etc, please contact Joe Cushley at Balling The Jack PR – ballingthejack1@gmail.com or 07775 744 867
Friday 18th Jan – Skegness Rock & Blues
Saturday 19th Jan – Espace Caussimon, Tremblay, France
Mon 21st to Sun 27th Jan – Memphis International Blues Challenge, USA
Sun 3rd Feb – The Domino Club, Leeds (duo)
Wed 6th Feb – Matt & Phred's, Manchester (duo)
Fri 8th Feb – Seven Nights the Blues, Lille, France
Fri 22nd Feb – Edinburgh Blues Club, Edinburgh
Sun 24th Feb – Broadstairs Blues Bash, Kent (duo)
Fri 1st March – Worthing Southern Pavillion, Worthing
Sat 2nd March – Long Street Blues Club, Devizes
Fri 8th March – Wirksworth Town Hall, Worksworth
Sat 9th March – Matt & Phred's Jazz Club, Manchester
Fri 15th March – Blakeney Harbour Rooms, Blakeney
Sat 16th March – Espace Culturel, Abbeyville, France
Sun 24th March – Top Secret Blues Festival, Scarbourgh
Sat 28th March – Sighisoara Festival, Romania
Thurs 4th April – European Blues Challenge, Ponta Delgarda, Azores
Sat 13th April – Ripley Blues Club, Ripley (duo)
Fri 26th April – Blues Awards Concert, Preston
Tues 30th April – The Bottleneck Blues Club, Rochester
Thurs 2nd May – Live In The North East, Percy Park RFC, North Shields (duo)
Sat 4th May – Barberaz, France
Fri 10th May – Summerseat Garden Centre, Summerseat
Wed 22nd May – Matt & Phred's, Manchester (duo)
Sat 25th May – Bury Met Blues Night, Bury
Fri 31st May – Acoustic Festival Of Great Britain, Uttoxeter
Sat 8th June – Espace Culturel, Thomery, France
Fri 14th June – Club Motorsport, Le Mans (24 hour), France
Wed 10th July – Matt & Phred's, Manchester (duo)
Fri 19th July – Upton Blues Festival, Upton
Sun 28th July – Blues at Guiting Festival, Guiting
THROW AWAY YOUR BLUES REVIEW 16/3/2016
Oh Gosh! We are barely into 2016 and the Blues Gold Standard Flag has been truly planted at the top of the hill.  The new album 'Throw Away Your Blues' from Kyla Brox will have you hunting around for words big enough to describe the impact of this beautiful, beautiful piece of work. This is a serious quality blues album conjured by a fabulous blues singer who, surrounded by some stunning musicians, mainlines every word, every note straight into your Blues Central.
If you have skin prepare for goose bumps, if you have a heart prepare for it to be uplifted and then perhaps broken. If you still have hair, prepare for it to stand on end. If you have a spine it will tingle and then some….   Ok, I'll stop there – but trust me, without any shadow of a doubt, this will go down as one of the best blues and soul vocal albums of the year.
The very first track 'If You See Him' sets the bar at an incredibly high standard. The opening line "If you see him tell him I'm sorry", sung unaccompanied, lets you know exactly where we are going with this killer blues songstress and I defy you not to open your mind to the grainy images of those mighty female blues singers of the past that we all love and cherish so much. Like that distinguished blues sisterhood, Kyla delivers sad, poignant, painful and heartfelt stuff. She has you from the first note and you can't let go…. when you are looking for a Track of the Year, this opening track will be on your list.
There are a number of tracks on here where our guide on this emotive roller-coaster tour seems to offer a little self assurance..'Lifting The Blues', 'Beautiful Day' and While We're Alone' are three superbly crafted songs where it seems as though there is maybe a future and a hope…but sadly, all three still leave us with the notion that maybe the moment has gone and she is looking with hindsight into the mirror and reflecting on times past. The last of these is given a magic lift with some wistful guitar but with the next more upbeat track 'Choose Me' the desperate plea in the lyric does nothing to dispel the sadness.
The writing throughout this big fourteen track album, provided by Kyla herself with the addition of her two guitarists Danny Blomeley and Paul Farr, is invested with the kind of powerful observations and commentary on blues feelings that only a female singer could deliver with authenticity. With Kyla we run the gamut of all those signposts of relationships…being alone, being desperate to be loved, being cheated on, getting over it, moving on and still being in love more and more. There is a hint of resigned pragmatism in a number of the tracks, particularly 'Ain't Got Time' and 'Honestly Blues' which are two classics that hit dead centre in the heart in a way that you quickly appreciate, only a woman can deliver with effect. However, there is still hope lurking in the background and, striking a familiar chord, there is the potent  'Change Your Mind' lyric where, even though rejected and neglected, the singer lets us know, sadly, that she will still be there if you should come back.
But Hey – don't give up lady – and she doesn't. The fabulous rapid track 'Run Our Home' has got some of the best 'screw-you' lyrics you could ever hope for where Kyla, throwing in a bit of hot flute playing, tells her lover she's outta there and he can pick up the pieces. There is not a woman in the land who will not be up and dancing to lines like 'you can't see past the end of your nose' and the brilliant 'see if you can do what I do all on your own'….oh, yes, left to the solar-plexus, right uppercut, knockout.
Piaf, Lady Day, Etta…we all know that galaxy of voices who have that extraordinary ability to imbue us publicly through their voice with their depth of feeling, the nerve endings of their pain, joy and disappointment and raise us up with a brave-faced look to the future. This is an album that comfortably stands alongside that rich pantheon of talent. It's called 'Throw Away Your Blues', but, as we all now understand, It Ain't That Easy and here we get told why.
Everything about this album is from the top drawer. The musicians and production are full of elegance and light touch – (even the album design is exquisite) and together they provide the perfect platform for a voice that will move you, embrace you and leave you wanting more. Not many can do that……
By The Blues Man in The Hat
Bluesdoodles Review 8/3/2016
Throw Away Your Blues…listening to Kyla Brox, you will…
One thing is true Kyla Brox singing will lift the spirits any day of the year.  This is an album where the blue is Midnight Blue with the nap and resilience of velvet.  Kyla's vocals on all fourteen tracks that combine to make Throw Away Your Blues an album to treasure is velvety smooth with textures and shading that keeps the ears firmly in-tune with her soulful singing.
This, Throw Away Your Blues is Kyla's sixth studio album, has her band performing to the flick of her hair, and meaningful stare they are putty at the feet of Kyla's purity and raw talent. The band has a timing that allows the voice to shine but never harshly dominate, the music blends and shades the lyrics. Her music and life partner Danny Blomeley along with Paul Farr and herself wrote the tracks that fit her style and allows the band to explore all the contours of blues and soul.
Opening with If I See Him, Kyla sings a capella the breathing and power drags you smiling into the album, the vocal bar is raised very high indeed. Then the band joins the musical party with a grinding melodic beat adding harshness and anger to the question being asked. The shaping and timing of her phrasing is superb as she sings 'tell him that I am breaking' the despair is immense. The flute from Kyla is a lightness in the shading a glimmer of hope and sorrow. After all that emotion the blues is pure in Lifting the Blues and the Paul Farr guitar work is spellbinding as the undercurrent of the words sung with breath-taking beauty.
The opening by John Ellis' Hammond organ leads you into the third track Beautiful Day and a change again in delivery, texture and tone. This is music that strokes your senses, has all the warm of a sensual women tinged with the raw animosity of a caged cat.  Throw Away Your Blues sings Kyla Brox her style is as smooth as midnight velvet. The husky tones of Kyla on Road Home would encourage everyone to drive straight to the front door with no deviations this is slow blues that gently massages and soothes your troubled soul. Then a change of tempo curling flute from Kyla and an up-beat dancing rhythm as she says I'm leaving you to run our home. This is blues with modern attitude this lady will walk out the door if her work in running a home is not appreciated. Listen up and say an appreciative word to those who Run Your Home. Blues is full of textured fun, chores are just mundane.
We are back with stylish guitar driven blues with Honestly Blues as this album full of style draws to a close.  Throughout the production, the spaces and timing has been immaculate. Never does the voice battle the guitar or vice versa, the whole package is effortless harmony. The beat picks up vocal tone is deeper and the rhythm has a feet tapping quality as 365 days are explored the blues, anger and despair of a woman who endures 365 days a year of  where nothing changes.   The guitar lead break is searing as if the words of Kyla have had no effect on his freedom. Closing with a love song we are left with the lingering pleasure of Kyla singing I Will Love You More. I know this is an album you will love more and more with every listen.
Kyla is the British blues queen, her vocal range and textured shaping of lyrics with emotions are earth-shattering in their power and emotive draw.
Bluesdoodles gives this CD TEN doodle paws out of TEN ….